Eureka2s Mobile Memory Tester for testing Multi-Chip-Package (MCP) memory.
Tester capable of testing LP-DDR, LP-DDR2, LP-DDR3, NAND/NOR memory chips. It utilizes CST's proprietary test algorithm to capture all known memory failures



Introducing the first one of its kind - Eureka Express DDR4 now start to deliver !
Complete 2133 / 1866 / 1600Mhz UDIMM / RDIMM / SODIMM / LRDIMM Solution
Eureka Express DDR4 2133 Solution.


Find out how DDR4 DIMM/SODIMM Memory SPD EEPROM is program in the Industry !
DDR4 Ez-SPD the 1st in industry to deliver an affordable DDR4 SPD Programming Solutions.

Eureka Express DDR3 Dual Socket Memory Tester.
Complete 1866 / 1600 / 1333 Mhz DDR3 DIMM / SODIMM /LRDIMM testing solution.

SP3000 DDR2 Memory Tester now available . Complete 1066/800/ 667/ 533/ 400Mhz DDR2 testing solution.
Find out more about DDR2 testing?

SP3000 DDR3 Memory Tester now available. Complete 1700Mhz DDR3 DIMM/SODIMM testing solution. Find out more about DDR3 Memory Tester ?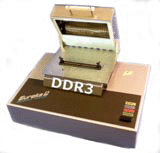 Eureka2 DDR3 1600Mhz Memory Tester available with Heat Chamber Box. Complete 1600Mhz DDR3 testing solution.
Find out more about Eureka2 DDR3 Temperature testing?

Hands-free,Compact & Self-Contained Automated "Pick & Place" DIMM Memory Testing with the affordable RoboFlex2 Handler. For DIMM...LRDIMM to SODIMM to Registered RDIMMs. Works for 288pin DDR4, 240pin DDR3, 240pin DDR2 and 184pin DDR SDRAM module.View Robo-Flex2 for DDR4 Handler Demo.

Hands-free memory testing with the affordable DDR, DDR2, DDR3 &amp DDR4 RoBoflex-MiNi Handler. For DIMMs to SODIMMs. Works for 288pin DDR4, 240pin DDR3, 240pin DDR2 and 184pin DDR SDRAM module . Options available for 144/200/204/260 pin SODIMM. View Handler Demo on Youtube.com