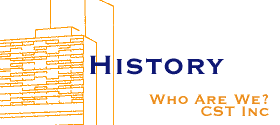 CST Inc, USA was formed in 1983 by two engineers from a Fortune 100 electronics company. It was formed on the premise that the new computer age will require new test equipment to test them. CST therefore, concentrated foremost on engineering. The result was the Triple Crown 700 multi-function taster. In response to the demand of the market, CST introduced the DRAM Master 700 tester in March 1985. In November the same year, CST was called on by Compaq Computer to build the first SIMM tester. Since then CST was known as "The Memory Tester Company ".
Through the years, CST continues to develop and improve its testers. CST products now include the Eureka Advanced Memory Tester, the SP3000 portable standalone tester and the RoboFlex Automatic Module DIMM/SoDIMM Handler.
Today, CST products are used by more than 70% of the computer manufacturers, 3rd party SIMM manufacturer, SIMM distributors as well as service depots. Customers include IBM, Intel, Microsoft, Micron, Infineon, Apple, HP, Motorola, Dell, Hynix, Dell, Samsung, Apacer, Kingston, Kingmax, Simple Technology , Smart Modular......just to name a few.
CST service includes Application support, Design engineering, Tester interface design, Custom testing service, Memory evaluation, Memory Module manufacturing/testing consultancy, Module PCB design, Module prototyping/evaluation, Computer memory bus analysis, and Memory module compatibility test.
CST sales network is worldwide including distributors throughout Europe, Asia, Canada and South America. CST is headquartered in Dallas, Texas, USA with branch offices in Irvine, California and in Shanghai, China.