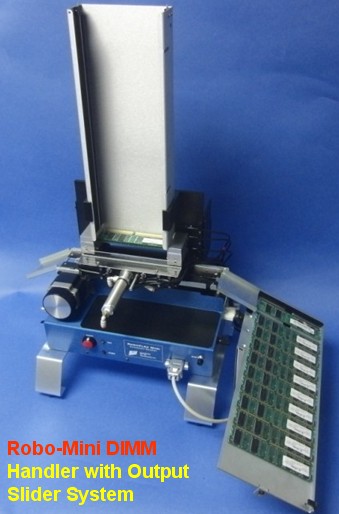 The Robo-MiNi Handler is the latest innovative 5th generation Automatic Memory DIMM / SODIMM Module Handler System and is highly recommended for high volume DIMM manufacturers, memory distributors and computer assemblers.
Operating the Light-Weight ( 20 pound) and Compact Robo-Mini Automatic Handler is an experience in simplicity, enabling memory module manufacturers to quickly and cost effectively achieve world-class memory module testing quality with very minimum investment.
Its innovative design concept and performance sets the Robo-MiNi Handler apart from other competitions and position itself into a class of its own.
The RoboFlex Handler seris - Automatic DIMM/SODIMM Handler is now the best seller among the memory module manufacturers and distributors.

This affordable Robo-MiNi handler system uses a direct socket insertion concept similar to many expensive Pick-and-Place robotic systems. The Robo-MiNi system acts like mechanical hands that gently pushes stacked modules horizontally into the tester socket one at a time. After the test, the module is withdrawn from the test socket and bin as good or bad by a "Bi-directional" conveyor system. Good modules are place into the Right Bin- and Bad modules are placed into the left bin. No output mix-up is, therefore, possible.

"I am pleased that this new scratch-free soft landing system will help minimized any mechanical damages caused during high volume testing" said Cecil Ho, president of CST, Inc. "This patented technology will now bring ease-of-use and high reliability to the memory module manufacturing industry"

The Robo-MiNi handler with Output Slider option is equipped with a universal input tray that fits all kind of standard 168/184/240pin DIMM without any adjustment. A revolutionary double stroke singulator ensures no-jamming operation. High throughput design allows for testing up to 8,000 pieces of DIMM a day.With a quick change of Pusher system – the Robo-MiNi will accommodate all types of memory including SDRAM,DDR,DDR2 & DDR3 Memory.

This "Robo-MiNi" handler can be used with CST 's Eureka2 ,SP3000, EZ-SPD and It supports testing for both Unbuffered and Registerd DIMM on the same handler system without any additional setup. Options for 200pin SODIMM and 204pin SODIMM are available.

Key Features
****************
* Compact and light-weight ( less than 20 pound)
* Stand-alone and no PC control neccessary
* No Adjustment needed
* Very easy to use - Two button system to "Start Test" and to "Stop Test"
* Module Soft landing - Output Slider System
The Robo-MiNi Handler is the world's most affordable Advanced Automated DIMM/SODIMM Handler Solution. Download a copy of the brochure from this link :
Watch the youtube video of the Robo-Mini Handler and Output Slider in Action.
Call CST at (972)-2412662 for Pricing and Delivery
Founded in 1983, CST develops, market, and support computer memory tester software and hardware. CST pioneered the first low cost SIMM tester in 1985. Since then, CST testers have become the standard for the computer manufacturing industry, holding more than 70% of the market in testers for computer manufacturers and third party SIMM manufacturers. With its product lines of DIMM memory testers and handlers, CST is equipped to handle all aspects of memory testing. CST has a comprehensive line of testers ranging from the low-volume service tester to the high-volume manufacturing needs.

CST, Inc. headquarters in Dallas, Texas, USA also has direct offices in Singapore, California, China as well as global distributors strategically located in Australia, Brazil, Canada, China, France, Germany, Hong Kong, Japan, Korea, Switzerland, Sweden, Taiwan,Israel,Spain,Portugal and the United Kingdom.
For further information, visit www.simmtester.com or call our Sales at (972) 241-2662.