Monday, October 15, 2012
DDR3 CHIP Handler Test system
CST Inc., a 29 years privately owned memory tester company, announces its New DDR3 CHIP Test Handler system for testing the New DDR3-1600/1333/1066/800 memory chips.

DRAM Chip Test handlers are used with semiconductor and component test systems to handle, thermally condition, contact and sort semiconductors and other electronic components during the back-end testing of the semiconductor manufacturing process.

CST 's DRAM chip test handlers are designed with different characteristics for memory and non memory semiconductors.

The CST-3309 test handler and test systems are designed to support memory chips testing and can handle up to 128 DUT devices at a time. The CST-3300's maximum throughput is 3,000 Dram devices per hour through the use of a new high-speed handling technology.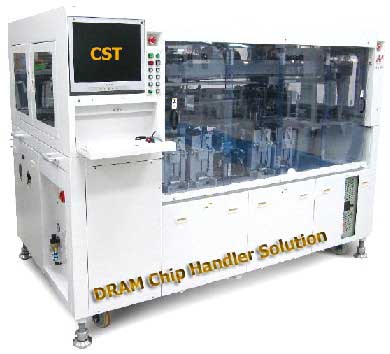 The CST-3309 can handle up to 128 memory devices simultaneously, including DDR,DDR2,DDR3,LP-DDR,LP-DDR2 & LP-DDR3 SDRAM memory devices, and has achieved a maximum throughput of 3,000 semiconductors per hour.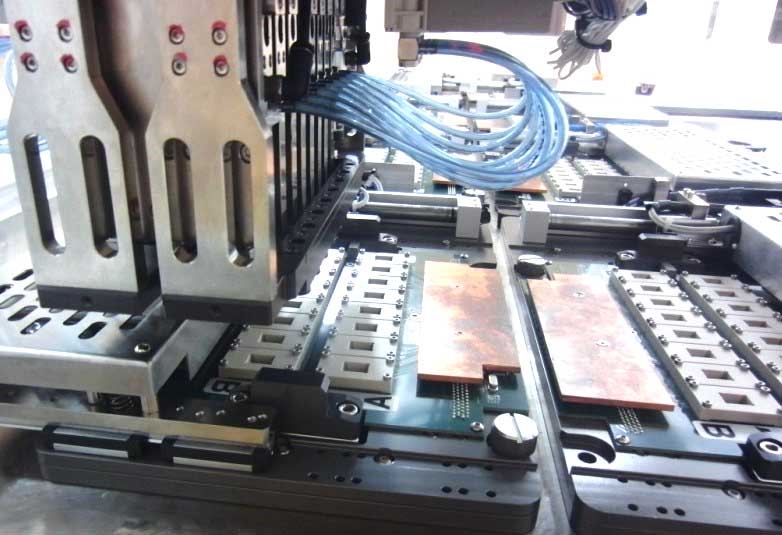 CST also has other test handler product line for test systems for memory chips and memory modules that meet varying cost and functional needs of its customers.

For further information, visit www.simmtester.com or call our Sales at (972)
241-2662.

CST, Inc , 2336 Lu Field Road , Dallas, Texas 75229 USA
Tel (972)-2412662 Fax (972)-2412661 Email : info@simmtester.com


Founded in 1983, CST develops, market, and support computer memory tester software and hardware. CST pioneered the first low cost SIMM tester in 1985. Since then, CST testers have become the standard for the computermanufacturing industry, holding more than 70% of the market in testers for computer manufacturers and third party SIMM manufacturers. With its product lines of SIMM/DIMM memory testers and handlers, CST is equipped to handle all aspects of memory testing. CST has a comprehensive line of testers ranging from the low-volume service tester to the high-volume manufacturing needs.

CST, Inc. headquarters in Dallas, Texas, USA also has direct offices in China as well as global distributors strategically located in Australia, Brazil, Canada, China, France, Germany, Hong Kong, Japan, Korea, Switzerland, Sweden, Singapore, Taiwan and the United Kingdom.



By: DocMemory
Copyright © 2023 CST, Inc. All Rights Reserved