CST Inc., a 30 years privately owned Memory Tester Company has announced its New Eureka Express -DDR3 1866Mhz DIMM/SODIMM Tester and have started deploying multiple units of the DDR3 1866Mhz Memory Test Solution at several major OEM Memory Manufacturers world-wide.
The new Eureka Express-DDR3 1866Mhz tester is capable to test the PC3-6400 (DDR3-800Mhz), PC3-8500(DDR3-1066Mhz), PC3-10666 (DDR3-1333Mhz), PC3-12800 (DDR3-1600Mhz) ,PC3-17066 (DDR3-1866Mhz) Long DIMM Memory Modules and SODIMM modules.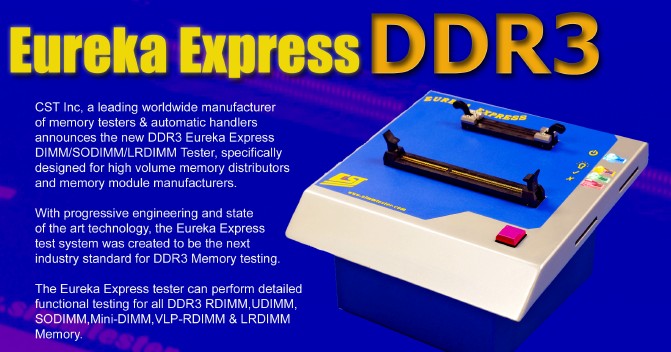 With a simple push button, the Eureka Express - DDR3 tester quickly auto-identify and displays the memory size , clock frequency, speed, Unbuffered memory module. It even reads and programs SPD EEPROM on the DDR3-SDRAM DIMM.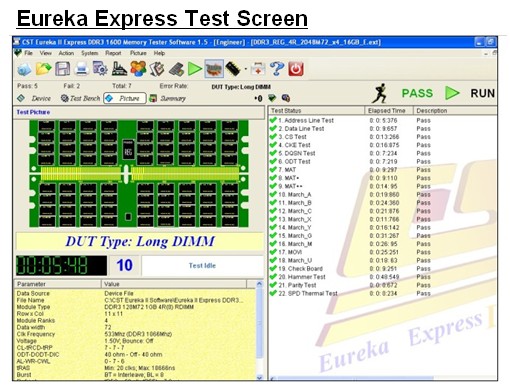 The New "Eureka Express 1866 Mhz DDR3 DIMM/SODIMM" tester provides added troubleshoot capability for the present and future DDR3 memory modules at affordable prices. It is targeted for the DIMM/SODIMM manufacturers, computer integrators, memory distributors, and service depots. It is indeed the fastest tester and the easiest to use in its class.
A desktop PC or Laptop is required for interfacing with the Eureka Express.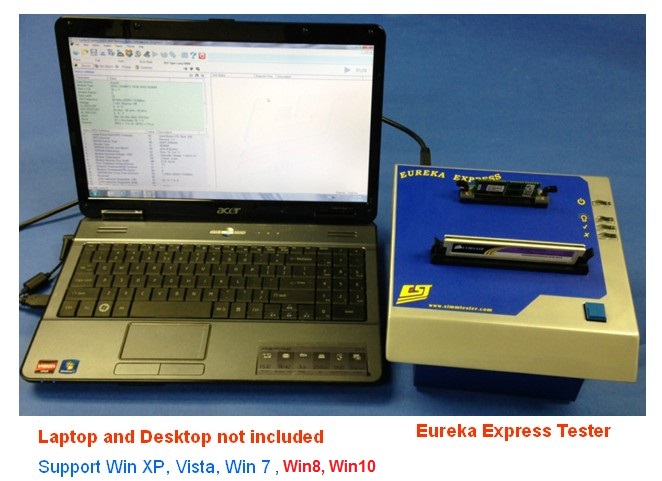 For For further information, visit www.simmtester.com or call our Sales at (972) 241-2662.Email : info@simmtester.com


Founded in 1983, CST develops, market, and support computer memory tester software and hardware. CST pioneered the first low cost SIMM tester in 1985. Since then, CST testers have become the standard for the computermanufacturing industry, holding more than 70% of the market in testers for computer manufacturers and third party SIMM manufacturers. With its product lines of SIMM/DIMM memory testers and handlers, CST is equipped to handle all aspects of memory testing. CST has a comprehensive line of testers ranging from the low-volume service tester to the high-volume manufacturing needs.

CST, Inc. headquarters in Dallas, Texas as well as global distributors strategically located in Australia, Brazil, Canada, China, France, Germany, Hong Kong, Japan, Korea, Switzerland, Sweden, Singapore, Taiwan and the United Kingdom.