Wednesday, November 1, 2000 CST Inc, simmtester.com has announced the delivery of its re-designed automatic handler "RoboFlex" for supporting DDR memory module testing. Used with CST 's Apollo Memory Tester , Eureka or Sp3000 tester , the RoboFlex Automatic handler will support testing both the 184pin DDR-DIMM and 200pin DDR-SODIMM using optional handler fixture.

The affordable RoboFlex handler system uses a direct socket insertion concept similar to many expensive "Pick and Place Robot System" , the RoboFlex systems acts like a mechanical hands that gently pushes stack modules horizontally into the tester test socket one at a time. After testing , the module are then withdrawn from the test socket and the bining of the good or bad modules are sorted by a "Bi-directional" conveyor system. Good modules are place in the right bin- and bad modules are placed on the left bin. No output mix-up is therefore possible.

The RoboFlex DDR handler is equipped with a universal input tray which fits all kind of standard 184pin DDR-DIMM without any adjustment. A revolutionary double stroke singulator ensures no-jamming operation. High throughput designs allow up to 8,000 pieces of modules a day.

With a quick change of Pusher system – the RoboFlex will accommodate all type memory including SDRAM and RAMBUS Memory. Automatic Labeling attachement and multi-site options will also be available in the near future.

The RoboFlex Automatic Handler is available now and it starts from : $8995.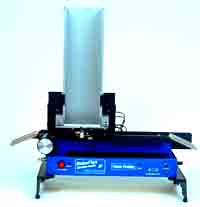 Founded in 1983, CST designs, manufacture , markets and supports computer memory test software and hardware. CST pioneered the first low cost SIMM tester for computers in 1985. Since then, CST testers have become the standard for computer manufacturing industry, holding more than 70% of the market in memory module testers for computer manufacturers and third party memory module manufacturers. With its product lines of memory module tester and handler, CST is equipped to handle all aspects of memory module testing. CST has a comprehensive line of testers ranging from the low-volume service tester to the high-end, high-volume tester. In addition, CST also provides customization for proprietary module test fixtures.

For further information, visit www.DDRtester.com or call our Sales at (972) 241-2662.


By: CST Marketing
Copyright © 2019 CST, Inc. All Rights Reserved