Eureka DDR Memory Tester Now Supports DDR memories

Wednesday, November 1, 2000 CST Inc, simmtester.com has announced today at the Comdex Fall 2000, its new Eureka DDR Memory Tester which support testing the latest DDR memories, it is the industry's first affordable DDR tester dedicated for testing the 184pin PC1600/PC2100 DDR memory modules.

"While others talk about quarter million dollars DDR tester, CST is the first one to show a working DDR tester in the public. This is especially attractive when it is under $20,000" said Cecil Ho, president of CST, Inc.

The Eureka "DDR Platform" is build with a universal Eureka base which allow user to swap inter-changeable DDR, RIMM & SDRAM test platforms. The new DDR Eureka Tester" is specially built for the assembly error detection and functional faults. It is built around the widely accepted CST Eureka test engine. A DDR Platform test adapter generates all the SSTL signals (2.5V) necessary to turn-on the DDR DIMM module. Proprietary test patterns are used to pin-point shorts, opens, assembly errors and functional failure.

In addition, DC parametric test is performed to ensure proper semiconductor DC characteristics compliance. The Eureka DDR tester also include SPD ( Serial Presence Detect) programming to test and program the EEPROM on the module.

The Eureka tester can be interface to CST 's RoboFlex Handler for mass volume testing. The Eureka-DDR Memory tester will be available for volume production by December, 2000 and price starts from $12,995.

Founded in 1983, CST designs, manufacture, markets and supports computer memory test software and hardware. CST pioneered the first low cost SIMM tester for computers in 1985. Since then, CST testers have become the standard for computer manufacturing industry, holding more than 70% of the market in memory module testers for computer manufacturers and third party memory module manufacturers. With its product lines of memory module tester and handler, CST is equipped to handle all aspects of memory module testing. CST has a comprehensive line of testers ranging from the low-volume service tester to the high-end, high-volume tester. In addition, CST also provides customization for proprietary module test fixtures.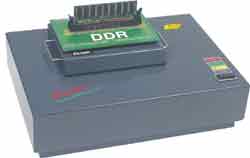 For further information, visit or call our Sales at (972) 241-2662.



By: CST Marketing
Copyright © 2019 CST, Inc. All Rights Reserved