Sunday, November 5, 2000 CST Announce Industry's first MemoryFleamarket.com "Classified Ads"
13. November 2000

At the Comdex Fall ' 2000 Show in Las Vegas, CST, Inc - "The Online Memory Solution Company" – www.simmtester.com , will provide yet another free service to its reengineered web-site ~ a Free Classified Ads called "MemoryFleamarket.Com".

MemoryFleamarket.Com is simply a Free Classified Ads service, which is targeted to anyone interested in buying or selling used or new "Memory products" online? Its Free and there is no charge in having your ads posted on the Classified Ads.

If you have any unused or excess memory products to sell, MemoryFleamarket.com can reached out to hundreds of thousands of new users?. If you are planning to upgrade your old PC and you not willing to pay first quality price, visit MemoryFleamarket.Com and you might be able to find some good deals that will fit your need and budget.

Whether you are in the business of selling memory products, a system integrator, a service technicians or an end-user, MemoryFleamarket.com can help your classified Ads produce results.

Among the benefits are;

Fast. Reach the world's largest Memory Internet audience with one click.
Free. You keep all the profit, and pay no commission
Deal Direct. Buyers and Sellers will deal direct with each other.
Unlimited. Submit unlimited postings.
Powerful. We provide the tools to manage your data.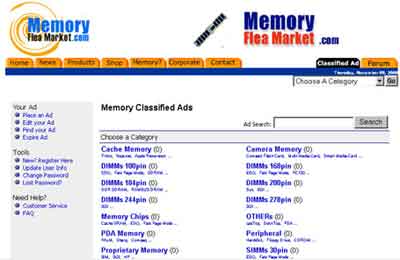 All we ask is that if you have any unused or excess memory products and you need to find a potential buyers, make MemoryFleamarket.Com as your first choice. That's it!

MemoryFleamarket.Com and Simmtester.Com offers more service from other Classified Ads site, you don't just buy or sell memory products. If you are having trouble with your PC system and you suspect that your rams are giving you trouble, you can download a :

- Free Memory Diagnostic Software.
- Check Daily Memory Related News.
- Check DRAM Price Index.
- Browse the Interactive Memory FAQ.

"We have been providing knowledge and information on memories for the last 17 years as a service to the PC industry." said Cecil Ho, president. "We are just making it available to a much broader client base through the Internet".

Through this web site, consumers as well as industrial users can access memory specification, standards, and compatibility charts all at one place to help configure memories on their motherboard. Free subscription for Newsletter is also offered. These Newsletters cover interesting topics in memory knowledge and applications. Visitors can also post any memory question to "DocMemory" for a personalized answer through e-mail.

CST, Inc. is a Dallas based memory module tester manufacturer since 1983. It provides memory module testers under the model names of "Eureka", and "SP3000". It also provides automatic DIMM handler for automation in memory module manufacturing test..
For further information, visit www.simmtester.com or call our Sales at (972) 241-2662.


By: CST Marketing
Copyright © 2019 CST, Inc. All Rights Reserved