Sunday, November 5, 2000 CST Inc, simmtester.com has released a new DocRam Memory Test card which will support testing DDR , Rambus and SDRAM memories for the PC System integrators, PC service companies and IT Professionals.

DocRAM, is an advance self-bootable PC Memory Diagnostic Test Card, simply insert the test card into any unused PCI slot and reboot your PC to begin testing your system memory. DocRam automatically convert any latest motherboard into a memory tester.

DocRam is a user friendly hardware test tool designed to capture all possible memory failures in PC.A rigorous test pattern exercises both the PC Base and Extended Memory to locate defective memory, all carried out without the need for user to disassemble memory from the PC.

During Booting up, DocRAM will identify the memory capacity with its Auto-identification features and the testing instructions and results are displayed in an easy to read format even a non-technical user will be able to understand.

Available memory test patterns includes "15" sophisticated algorithms such as MATS, March B+ ,March C-, and Checkerboard…etc. Selecting "Burnt-In Mode", will capture 95% of PC System soft memory failures. Editing the pattern and other parameter functions are made simple by using the keyboard function keys.

DocRAM Memory diagnostic card, will be available in December 2000 and will retail at US$ 199.

Founded in 1983, CST designs, manufacture , markets and supports computer memory test software and hardware. CST pioneered the first low cost SIMM tester for computers in 1985. Since then, CST testers have become the standard for computer manufacturing industry, holding more than 70% of the market in memory module testers for computer manufacturers and third party memory module manufacturers. With its product lines of memory module tester and handler, CST is equipped to handle all aspects of memory module testing. CST has a comprehensive line of testers ranging from the low-volume service tester to the high-end, high-volume tester. In addition, CST also provides customization for proprietary module test fixtures.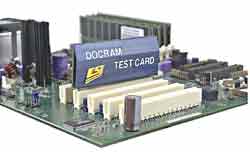 For further information call our Sales at (972) 241-2662.


By: CST Marketing
Copyright © 2019 CST, Inc. All Rights Reserved