Monday, November 20, 2000 CST, Inc. introduced its DDR Memory test solutions at the Comdex Fall 2000 Show in Las Vegas. The show lasted from November 13 to 17 and was a gathering place for over 200,000 computer professionals.

At the show, CST demonstrated its working Advanced DDR Memory Module Tester. This industry's first DDR DIMM tester is based on the field proven Eureka test engine. A new DDR test adapter allows user to upgrade their existing bench tester to also test DDR modules. Features included auto ID, auto test, graphical DIMM interface, SPD manager, parametric leakage test and much much more.

"I am pleased that our two years of advance R&D has put us way ahead of our competitions" said Cecil Ho, president CST, Inc. " While others are talking about it, we showed you a total working DDR Tester that you can try and touch."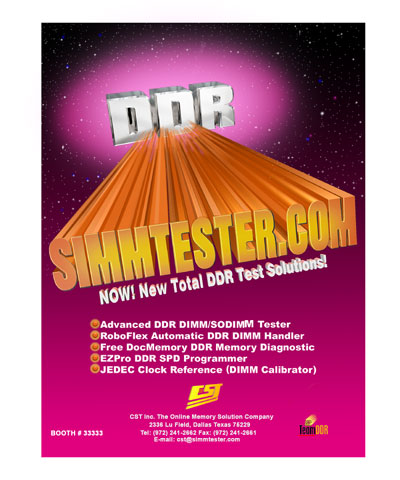 CST, Inc. as an industry memory test pioneer, is proud to unveil it's low cost total DDR test solutions. CST's DDR test solution include the following:

1.
DDR Clock Reference Board to calibrate the DIMM design

2. EZ DDR Programmer for programming and editing SPD signatures.

3. RoboFlex direct socket insertion automatic DDR DIMM handler.

4.
DDR test platform adapter for Eureka Series tester.

5.
SP3000-DDR test systems.

6. The new Apollo Native Environment DDR tester.

For those who had missed the show. Here's our Comdex Fall 2000 picture book:



Here's the front view of our 25feet X30 feet booth at the Las Vegas Convention Center



Looking from the right hand side



Looking from the left hand side



Our Marketing Communication Specialist Cindy who made our lives easier at the show



Mike and Daniels are always at the front line helping customers




By: DocMemory
Copyright © 2019 CST, Inc. All Rights Reserved