Immediate Release of SP3-200pin DDR TSOP adapter, 266Mhz

Monday, April 1, 2002 CST Inc, a leading memory test equipment manufacturer based in Dallas Texas, announced Immediate shipment of the new SP3-200pin DDR SODIMM adapter, 266Mhz with test capability of DDR-PC2100/PC1600 memory for its Model SP3000 Memory Tester.
Click here for further information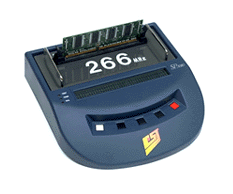 This makes CST Inc. the first in the industry to provide low cost real cycle time test solution for the new 200pin 266Mhz DDR SODIMM memory module.

"We are the only tester company to have started shipping volume DDR test system capable of testing the latest PC1600 & PC2100 DDR modules"

"The PC industry is at a pivotal point where DDR memory is beginning to move into replacing PC133 SDRAM as the mainstream memory". We are proud to be in the position of delivering an "Affordable DDR solution", which will enable many module manufacturers to gear up their DDR test capabilities very quickly with our test system.

SP3000 DDR tester performs testing at high speed real cycle time. A full detail test on a 256Mb DDR module completes in less than 10 seconds. Test time cuts by half, instantly translating to increased manufacturing throughput.





While most DDR module testers are using 'Skip-Cycle' or 'Read-Twice' technology that does not fully simulate the actual operational environment, the SP3000 utilizes a State-of-Art ASIC memory controller to truly emulate the motherboard running speed and uncover a lot of the hard-to-find memory faults.

The "SP3000 DDR 266mhz Adapter" is build to work with the universal SP3000 base unit, allowing user to easily interchange between DDR, SDRAM & DRAM test adapters. Now with added capability for testing PC1600/ PC2100 DDR memory modules at affordable prices, it is indeed the fastest and the easiest to use tester in its class.

With a simple push button the SP3000 DDR tester quickly auto-identify and tell you the Memory size, Configuration, Clock Frequency, Speed, Registered or Unbuffered memory module. It even allow easy reading and programming of SPD EEPROM on DDR SDRAM module.

The Advanced PC software is available for interfacing to a PC for enhanced file management features. Ease of use and upgradablity, SP3000 is ideal for the memory manufacturers, computer integrators, memory resellers, and service depots.

The SP3000 DDR tester easily interfaces to CST 's revolutionary Automatic RoboFlex Handler for hands free operation. RoboFlex handler handles both 144pin SDRAM SODIMM and 200pin DDR SODIMM on the same unit , the perfect total memory test solution for volume module testing.

Test drive SP3000 DDR Tester - Virtual Demo online now

Founded in 1983, CST develop, market, and support computer memory tester software and hardware. CST pioneered the first low cost SIMM tester in 1985. Since then, CST testers have become the standard for the computer manufacturing industry, holding more than 70% of the market in testers for computer manufacturers and third party SIMM manufacturers. With its product lines of SIMM/DIMM memory testers and handlers, CST is equipped to handle all aspects of memory testing. CST has a comprehensive line of testers ranging from the low-volume service tester to the high-volume manufacturing needs.

CST, Inc. headquarters in Dallas, Texas, USA also has direct offices in Singapore, California, as well as global distributors strategically located in Australia, Brazil, Canada, China, France, Germany, Hong Kong, Japan, Korea, Switzerland, Taiwan and the United Kingdom.





By: DocMemory
Copyright © 2019 CST, Inc. All Rights Reserved