CST Inc., a 22 years privately owned memory tester company, announced its New SP3000-DDR 500Mhz DIMM tester today capable of testing the latest "Quad-Rank" or "4 Rank" Registered DIMM module used by the AMD Quad-Opteron Server.
"Quad-rank memory modules require special motherboard modifications and an enabled server BIOS to work properly. Unless a server or system board is designed to support quad-rank memory modules, they will not work. Only a limited number of server motherboards will support quad-rank memory modules starting in Q3 2005. When quad-rank memory modules are supported, server boards will only be able to accommodate one pair of quad-rank memory modules as the 8-rank maximum will be reached, making them ideal for blade servers with a limited number of memory sockets"
The SP3000 DDR-500 DIMM tester is capable of supporting all the standard Dual / Single Rank PC-3200 , PC-2700, PC-2100 and PC-1600 DDR memory modules. This makes CST, Inc. the first in the industry to provide low cost real time test solution for the new "Quad-Rank" DDR Memory module.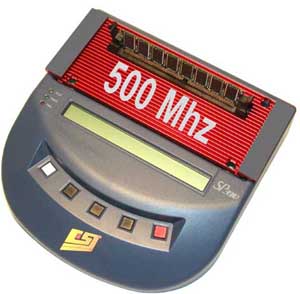 "With the latest "Quad-Rank" Memory module gaining popularity on the AMD Opteron Servers, high-end DIMM memory manufacturers now have an affordable solution from CST to help reduce the overall cost of testing, and significantly increases the profitability for any memory module manufacturing company" said Arthur Zhao CST-Shanghai marketing manager.
The SP3000 DDR-500 is built with a "Fault Focusing algorithm" designed to pin-point the faulty solder joint and the bad chip" "It is so easy to use that it takes the mystery out of testing the new "Quad-Rank" DDR memory"

The "SP3000 DDR-500 Adapter" is built to work with the CST universal SP3000 base tester, which allow user to swap inter-changeable DDR, DDR2, SDRAM & DRAM test adapters. With a simple push button, the SP3000-DDR tester quickly auto-identify and displays the memory size , clock frequency, speed, Registered or Unbuffered memory module. It even reads and programs SPD EEPROM on the DDR-SDRAM DIMM.
SP3000 DDR-500 feature includes :
Increase Clock Frequency up to 500Mhz data-rate
Support 4, 2 & 1 Rank DIMM module
Fault Focusing algorithm to pin-point bad chips
The "SP3000 DDR-500" series tester provides added troubleshoot capability for the present and future DDR2 memory modules at affordable prices. It is targeted for the DIMM manufacturers, computer integrators, memory distributors, and service depots. It is indeed the fastest tester and the easiest to use in its class. Advanced PC software is available for interfacing to a PC. The SP3000-DDR2 tester can also be interface to CST 's RoboFlex handler for mass volume testing.

The SP3000 DDR-500 DIMM tester is available now and is priced at only U$4800.The Data sheets can be downloaded from this link : http://www.simmtester.com/page/products/sp3000/sp3brochure.asp

CST, Inc. headquarters in Dallas, Texas, USA also has direct offices in Singapore, California, China as well as global distributors strategically located in Australia, Brazil, Canada, China, France, Germany, Hong Kong, Japan, Korea, Switzerland, Sweden, Taiwan and the United Kingdom.