Monday, March 6, 2006
Dallas, TX ------ CST Inc., a 23 years privately owned memory tester company, announced its New SP3000-DDR2 800Mhz DIMM tester today to test the New PC2-6400(DDR2-800) , PC2-5300(DDR2-667) PC2-4300 (DDR2-533) and PC2-3200 (DDR2-400) memory modules. This makes CST, Inc. the first in the industry to provide low cost real time test solution for the new DDR2 240-pin 800Mhz standard memory module.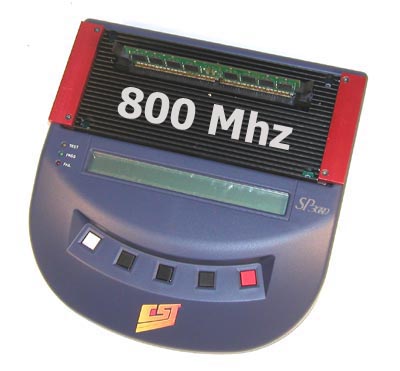 "CST has spent a year of expedited development efforts and its thrilled to be releasing the Sp3-DDR2 800Mhz at the Cebit Show this week, just in time for the market to gear up for DDR2 800Mhz ramp up in the next two quarters" said Cecil Ho , CST President and CEO. "The industry have been asking for an affordable low cost test solution for 800Mhz DDR2 memory, and now with the SP3-DDR2 800Mhz test solution, they have it".

The "SP3000 DDR2 Adapter" is built to work with the CST universal SP3000 base tester, which allow user to swap inter-changeable DDR, SDRAM & DRAM test adapters. With a simple push button, the SP3000-DDR2 tester quickly auto-identify and displays the memory size , clock frequency, speed, Registered or Unbuffered memory module. It even reads and programs SPD EEPROM on the DDR2-SDRAM DIMM. Special mechanism is included to satisfy the new JEDEC "Reversible SPD Protect" specifications also.
The
new "SP3000 DDR2 800Mhz "
series tester provides added troubleshoot capability for the present and future DDR2 memory modules at affordable prices. It is targeted for the DIMM manufacturers, computer integrators, memory distributors, and service depots. It is indeed the fastest tester and the easiest to use in its class. Advanced PC software is available for interfacing to a PC. The SP3000-DDR2 800Mhz tester can also be interface to CST 's RoboFlex-I and RoboFlex2 Automated Handler for mass volume testing.
The
SP3000-DDR2 DIMM
tester is available now. Call your local distributor or cst for pricing.
CST, Inc. headquarters in Dallas, Texas, USA also has direct offices in Singapore, California, China as well as global distributors strategically located in China, France, Germany, Hong Kong, Japan, Korea, Switzerland, Sweden,Denmark,Spain, Israel, Taiwan and the United Kingdom.
For further information, visit www.DDRtester.com or call our Sales at (972) 241-2662.
By: DocMemory
Copyright © 2019 CST, Inc. All Rights Reserved