Tuesday, August 29, 2006
CST Inc./ DOCMEMORY.COM has released a new Chinese Version 3.1 Beta at the 2006 Nepcon Show in ShenZhen China. DocMemory V3.1Beta Chinese is a user friendly PC Memory Diagnostic Software tool targeting at the Asian Memory Module Manufacturers.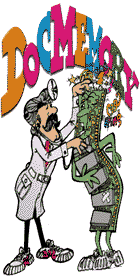 "DocMemory" is an advanced self-booting PC Memory Diagnostic Software. This user-friendly software is designed to capture all possible memory failures in a PC. Rigorous test pattern is exercised on both the PC Base and Extended Memory to locate defective memory. This is all done without the need to disassemble the memory from the PC.


During Boot up, DocMemory is able to determine memory capacity with its Auto-Identification feature, displaying easy to read memory related information. It has only one operation selection modes "Burnt-In "


Enhancements in Version 3.1 Beta Chinese
Detects bad address location, rank and pin-point fail Data-Bit accurately.
Works with both Intel and AMD latest CPU
Up 4 Gb of memory testing only
LinuxBIOS support (To get the memory size)
Runs only in the floppy disk A or B Drive( USB Drive & CD not supported )
Uses CST Proprietary Bootup program to load into Floppy Disk (Floppy requires formatting,use any Microsoft OS to format a Blank new disk before installing software
Supports most Window OS 98,ME,NT,2000 & XP

Many bug fixes and code cleanup

Supports SDRAM, Rambus, DDR,DDR2 and FB-DIMM Memory

User manual are offered in Chinese text.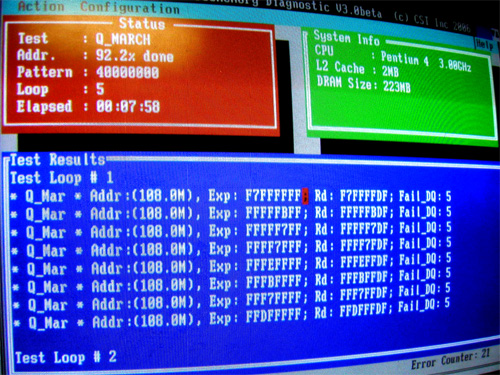 DocMemory Chinese V3.1Beta is a powerful memory diagnostic software capable of detecting faulty memories at the PC system level very quickly with its exhaustive " CST Proprietory Memory Testing Algorithm ".
DocMemory V3.1Beta include Five Test Algorithm which can capture hard to detect memory failures :
- Walk Address , Walk Data , Random March-8, Randam March-16 , Random March-32 & R-March.
The limitations of the PC Diagnostic Memory software are :
inability to directly pinpoint exact location of dram chip failure
inabiilty to detect the exact memory cell that of the faulty chip
the first module in PC must be good inorder for PC to boot for diagnostic software execution
time taken for test completion is much longer
If any of these factors are critical to your operations, then a hardware tester such as the Eureka2 , SP3000 Memory tester would be the options to consider.
DocMemory is a must for any PC user, service technicians; even memory wholesalers and resellers will benefit from using this software.
Note : Software does not change any configuration in your PC. Please read instruction carefully before installation, please use at your own risk.

DocMemory diagnostic software, is available free-of-charge, we do not provide any Phone Tech Support (please do not call) , forward all techincal issues to docmemory@simmtester.com. Download your FREE copy now!

Founded in 1983, CST develops, markets, and supports computer memory tester software and hardware. CST pioneered the first low cost SIMM tester for computers in 1985. Since then, CST testers have become the standard for the computer industry, holding more than 70% of the market in memory testers for computer manufacturers and third party memory module manufacturers. With its product lines of SIMM/ DIMM memory tester and handler, CST prides itself for supplying a total memory test solution. CST has a comprehensive line of testers ranging from the low volume service tester to the high-volume production tester.

By: DocMemory
Copyright © 2019 CST, Inc. All Rights Reserved