Friday, January 5, 2007
DDR2 800Mhz BGA Chip Tester with

UNIVERSAL SOCKET

TO TEST ALL DIFFERENT OUTLINE

UTT/ETT & OEM DDR2

CHIPS
CST Inc., a 24 years privately owned memory tester company, announces its New SP3000-800Mhz DDR2 CHIP tester today to test the New DDR2-800/667/533/400 memory chips. This makes it the first low cost real time tester for screening regular DDR2 DRAM as well as UTT/ETT DDR2 BGA DRAMs.
"With the new DDR2 chips in the many different BGA (Ball Grid Array) packages, 29 sets of test sockets would have been required. It would make it cost prohibited" said Daniel Tan, CST West Coast marketing manager "CST's innovative universal test socket practically eliminates the need for multiple socket and allows you to test all different size chips with basically one test socket. Low cost mechanical socket inserts are used to accommodate the different sizes and shapes.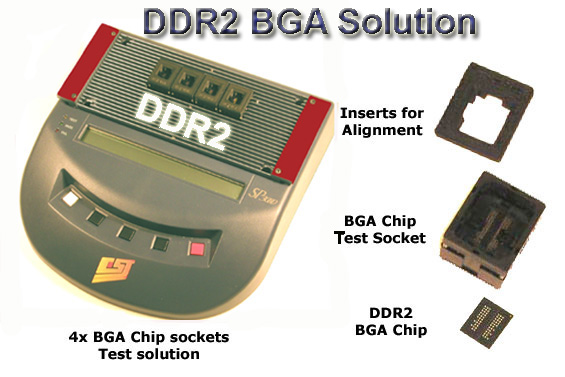 The "SP3000 DDR2 Chip Adapter" is built to work with the CST SP3000 base tester, which allows user to swap inter-changeable DDR2, DDR, SDRAM & DRAM test adapters. With a simple push-button the SP3000-DDR2-Chip tester quickly auto-identify and displays the memory size, clock frequency, and speed of the memory chip. Unlike DIMM shape chip converters that can give uncertain test result, the SP3000-DDR2 Chip Adapter test sockets are fully buffered and isolated for "no confuse" fault detection.

The new "SP3000 DDR2 Chip" tester provides added troubleshoot capability for the present and future DDR2 memories at affordable prices. It is targeted for the manufacturers, computer integrators, memory distributors, and service depots. It is indeed the fastest tester and the easiest to use in its class. An advanced PC software is available for interfacing to a PC. The SP3000-DDR2 Chip tester can also be interfaced to different chip handler for mass volume testing.
The SP3000-800Mhz DDR2 CHIP tester is available now and is priced at only U$8000.
To download the specification for the chip tester log on :
http://www.simmtester.com/page/products/sp3000/sp3brochure.asp
Founded in 1983, CST develops, market, and support computer memory tester software and hardware. CST pioneered the first low cost SIMM tester in 1985. Since then, CST testers have become the standard for the computer manufacturing industry, holding more than 70% of the market in testers for computer manufacturers and third party SIMM manufacturers. With its product lines of SIMM/DIMM memory testers and handlers, CST is equipped to handle all aspects of memory testing. CST has a comprehensive line of testers ranging from the low-volume service tester to the high-volume manufacturing needs.

CST, Inc. headquarters in Dallas, Texas, USA also has direct offices in Singapore, California, China as well as global distributors strategically located in Australia, Brazil, Canada, China, France, Germany, Hong Kong, Japan, Korea, Switzerland, Sweden, Taiwan and the United Kingdom.


For further information, visit www.DDRtester.com or call our Sales at (972) 241-2662.
Please go to www.simmtester.com/newsroom for high-resolution photos
By: DocMemory
Copyright © 2019 CST, Inc. All Rights Reserved