Monday, May 21, 2007
CST, Inc. announced the immediate delivery of the new EZ DDR3 SPD Programmer.
This SPD programmer is CST's first product to enable the new DDR3 memory standard. With Intel's promise to provide "BearLake" DDR3 motherboard in 2H07, this SPD programmer is the first important tool available to the DIMM module manufacturers.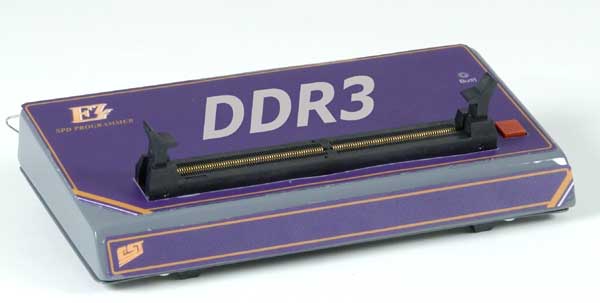 Memory module manufacturers usually program the SPD chips on a chip programmer before mounting them onto the DIMM. The process is risky and is difficult to change. The CST EZ Programmer allows on-DIMM SPD programming, verification and protection setting. It provides the infinite flexibility that the memory manufacturers need. 240pin heavy duty DDR3 test socket is included for rugged manufacturing use.
Software is built-in with easy DDR3 SPD table "configurator". It practically guides the engineer to construct his own SPD table. SPD tables can also be imported, copied, and edited. The confirmed table can also be saved in device library for future use. It also has a CRC checksum routine to automatically generate your checksum and place it into byte 126. It takes out the "checksum confusion" that often troubles the engineer.
For high volume production, the EZ-DDR3 SPD Programmer is also fitted with the CST RoboFlex1 & RoboFlex2 Automatic Handler to allow hands free production automation. It is a tool that manufacturers cannot do without.
EZ-DDR3 SPD Programmer comes with hardware and a software CD for only $1,500. For further information, visit www.DDRtester.com or call our Sales at (972) 241-2662.
Founded in 1983, CST develops, market, and support computer memory tester software and hardware. CST pioneered the first low cost SIMM tester in 1985. Since then, CST testers have become the standard for the computer manufacturing industry, holding more than 70% of the market in testers for computer manufacturers and third party SIMM manufacturers. With its product lines of SIMM/DIMM memory testers and handlers, CST is equipped to handle all aspects of memory testing. CST has a comprehensive line of testers ranging from the low-volume service tester to the high-volume manufacturing needs.

CST, Inc. headquarters in Dallas, Texas, USA also has direct offices in Singapore, California, China as well as global distributors strategically located in Australia, Brazil, Canada, China, France, Germany, Hong Kong, Japan, Korea, Switzerland, Sweden, Taiwan and the United Kingdom.
By: DocMemory
Copyright © 2019 CST, Inc. All Rights Reserved