Monday, April 20, 2009
CST is launching its Eureka2 DDR3 1333Mhz DIMM Memory Tester at the Computex Show
CST Inc, will launch a new test adapter , the Eureka2-DDR3 1333Mhz DIMM Memory Tester for testing the 240pin DIMM Memory.
CST Inc will be demonstrating the new Eureka2 DDR3 DIMM system at the Computex Show in Taiwan schedule on June 2 - 6th , 2009.
CST is pleased to introduce the 4th Generation bench top memory test system, the Eureka2, specifically designed for high volume memory manufacturers, large memory distributors, PC & Servers computer manufacturers and engineering laboratories.
The Eureka2 Test System is a DDR3 Module tester capable of testing DDR3 Chips, DIMM & SODIMM memory, and it utilizes CST's proprietary test algoritium to capture all known memory failures.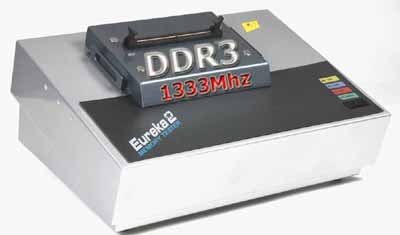 The Eureka2 Memory Test system with CST's Proprietary Technology offers a significant advanced programmable features, wide Vdd voltage range setting and high frequency testing up to 1333Mhz data rate.
Some of the Eureka2 DDR3 DIMM Tester Key Features
Increase Clock Frequency up to 1333 Mhz data-rate
Support 2 & 1 Rank Unbuffered DIMM module
Support 4 Rank Registerd DIMM module
Fault Focusing algorithm to pin-point bad chips
Wide Vdd voltage setting for testing UTT/ETT and Overclocking module
Programmable Timing Adjustment - 50ps resolution
7 - ICC measurement
DC Leakage Measurement
DIMM Module Speed Sorting
Heavy Duty Test Sockets
Extensive JEDEC DIMM Module Library
New - Hot Chamber Heat Box available soon on the Eureka2 Tester
The "Eureka2 DDR3 240pin DIMM Adapter" is built to work with the CST Eureka2 base tester, which allows user to swap inter-changeable , DDR3, DDR2 and DDR Test adapter. With a simple push-button and a mouse click, the Eureka2-DDR3 tester quickly auto-identify and displays the memory size, clock frequency, and speed of the memory chip.

The new "Eureka2 DDR3 DIMM " tester provides added troubleshooting capability for the present and future DDR3 memories at affordable prices. It is targeted for the manufacturers, computer integrators, memory distributors, and service depots. It is indeed the fastest tester and the easiest to use in its class.
An advanced PC software is required for interfacing with a PC via the USB port. The Eureka2-DDR3 tester can also be interfaced to CST 's RoboFlex1 ,RoboFlex2 Automatic DIMM Handler and the New RoboFlex3 Pick and Place Automatic Handler for mass volume production testing.
The Eureka2-1333Mhz DDR3 DIMM Memory tester is available for ordering during the Computex show and price starts at U$20,000.Existing Eureka2 user can purchase the EK2-DDR3 DIMM Adapter seperately. Call 972-2412662 for more information. Download Brochure can be found from this link : http://www.simmtester.com/page/products/productSpecs/Eureka2_DDR3%20Tester(1).pdf
Founded in 1983, CST develops, market, and support computer memory tester software and hardware. CST pioneered the first low cost SIMM tester in 1985. Since then, CST testers have become the standard for the computer manufacturing industry, holding more than 70% of the market in testers for computer manufacturers and third party SIMM manufacturers. With its product lines of DIMM memory testers and handlers, CST is equipped to handle all aspects of memory testing. CST has a comprehensive line of testers ranging from the low-volume service tester to the high-volume manufacturing needs.

CST, Inc. headquarters in Dallas, Texas, USA also has direct offices in Singapore, California, China as well as global distributors strategically located in Australia, Brazil, Canada, China, France, Germany, Hong Kong, Japan, Korea, Switzerland, Sweden, Taiwan,Israel,Spain,Portugal and the United Kingdom.


For further information, visit www.dimmtester.com or call our Sales at (972) 241-2662
By: DocMemory
Copyright © 2023 CST, Inc. All Rights Reserved