Thursday, May 7, 2009
CST Inc., a 25 years privately owned Memory Tester Company has announced it will demonstrate its New RoboFlex3 "Pick & Place" AutoMatic Handler Systemat the Taipei Computex Show schedule from June 2 - 6, 2009.
The RoboFlex-3 Handler is the latest innovative 1st generation Automatic Memory DIMM / SODIMM Module "Pick and Place" Handler System built for the high volume OEM memory manufacturers and 3rd party Memory manufacturers.

Designed to speed up memory testing and sorting with limited minimum human-error, the RoboFlex-3 is highly recommended for high volume DIMM manufacturers, memory distributors and computer assemblers.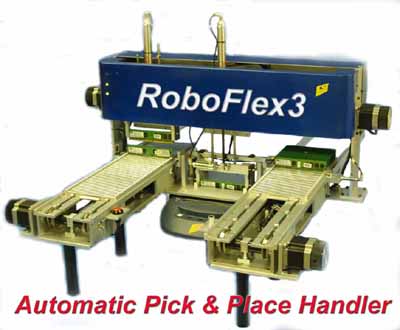 Operating the Light-Weight and Compact RoboFlex3 Automatic Handler is an experience in simplicity, enabling memory module manufacturers to quickly and cost effectively achieve world-class memory module testing quality with very minimum investment.
Its innovative design concept and performance sets the RoboFlex3 Handler apart from other competitions and position itself into a class of its own.

The RoboFlex3 Handler is designed to eliminate the complexities and high costs associated with expensive Pick and Place automatic handling machines. No other automated Pick & Place solution offers that much flexibility and simplicity.
The RoboFlex3 supports "Scratched -Free" , dual pick and place grippers to delivers superior pick and place accuracy using a precision servo motor system.
When combined with CST's line of memory testers, the handler provides a cost-effective method of automatically testing DIMM / SODIMM and other memories in a fast, reliable and safe manner.
Key Features
****************
* Compact and light-weight ( less than 60 pound)
* Stand-alone and no PC control neccessary
* Dual Head Gripper System
* No Adjustment needed
* Stackerable Tray System
* Very easy to use - Two button system to "Start Test" and to "Stop Test"
Currently two version of RoboFlex3 Handler are being offered to support two type of memory module configurations for DIMM or SODIMM Memory testing.
The RoboFlex3 handler is the world's most advanced automated Pick and Place Handler Solution.
Pricing and Delivery will be announce at the Taiwan Show.
Download the Brochure from this link:
View the RoboFlex3 Handler at this link:
Founded in 1983, CST develops, market, and support computer memory tester software and hardware. CST pioneered the first low cost SIMM tester in 1985. Since then, CST testers have become the standard for the computer manufacturing industry, holding more than 70% of the market in testers for computer manufacturers and third party SIMM manufacturers. With its product lines of DIMM memory testers and handlers, CST is equipped to handle all aspects of memory testing. CST has a comprehensive line of testers ranging from the low-volume service tester to the high-volume manufacturing needs.

CST, Inc. headquarters in Dallas, Texas, USA also has direct offices in Singapore, California, China as well as global distributors strategically located in Australia, Brazil, Canada, China, France, Germany, Hong Kong, Japan, Korea, Switzerland, Sweden, Taiwan,Israel,Spain,Portugal and the United Kingdom.
For further information, visit www.simmtester.com or call our Sales at (972) 241-2662.
By: DocMemory
Copyright © 2023 CST, Inc. All Rights Reserved