Tuesday, September 26, 2006
Several major DRAM manufacturer have made announcement, they are supplying the industry's first DDR3 devices and modules to leading PC industry developers for evaluation by early 2007.
Intel's Bearlake chipset will be the first to support DDR3 and it is expected to arrive in the third quarter of 2007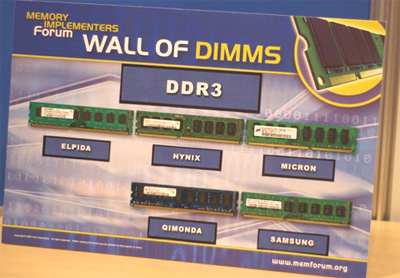 DDR3 module @ Intel IDF Fall 2006
Key Features
The DDR3 components are twice as fast as today's highest speed DDR2 memory products.
The first computer systems equipped with the advanced DDR3 memory technology are expected to arrive in 2007.
The main advantages of DDR3 are the higher bandwidth and the increase in performance at low power.
The DDR3 SDRAM devices will offer data transfer rates up to 1600 Mbps (megabits per second).
The supply voltage for the memory technology is being reduced from 1.8 volts for DDR2 to just 1.5 volts for DDR3 targeting a work day equivalent of battery time. The voltage reduction limits the amount of power that is consumed and heat that is generated in connection with the increase in bandwidths.
Component densities: standardized from 512Mbit thru 8Gbit.
The most important densities will be 512Mbit and 1Gbit at the beginning, later on a 2Gbit and eventually 4Gbit component to follow.
Module densities: from 256MByte up to 8GByte for standard JEDEC modules.
Higher module densities beyond 8Gbyte for special applications like servers may be introduced later on.
Features*
DDR3 SDRAM Components:
Introduction of asynchronous RESET pin
Support of system level flight time compensation
On-DIMM Mirror friendly DRAM ballout
Introduction of CWL (CAS Write Latency) per speed bin
On-die IO calibration engine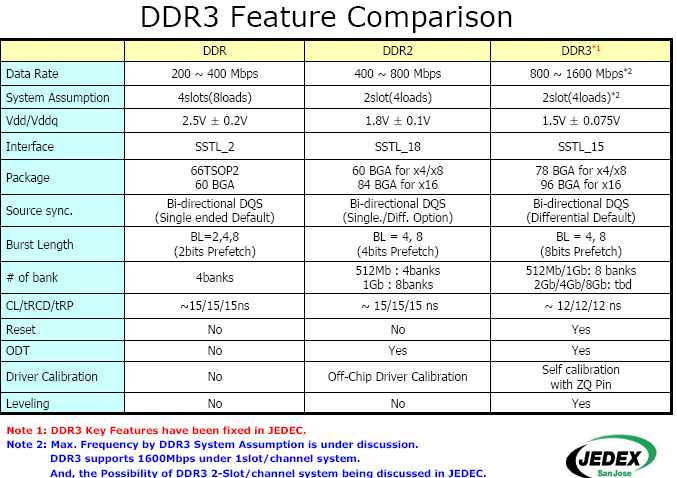 DDR3 Modules:
Fly-by command/address/control bus with On-DIMM termination
High precision calibration resistors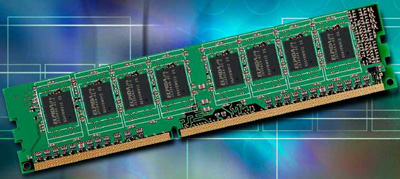 Elpida DDR3 DIMM module
Advantages compared to DDR2
Higher bandwidth (up to 1600 Mbps)
Performance increase at low power
Longer battery life
Enhanced low power features and thermal design
DDR3 SDRAM will be packaged in a DIMM modules form factor.
| DIMM Module | Chip Type | Clock Speed | Data Rate | Transfer Rate |
| --- | --- | --- | --- | --- |
| PC3-6400 | DDR3-800 | 400 | 800 | 6,400 |
| PC3-8500 | DDR3-1066 | 533 | 1066 | 8,530 |
| PC3-10667 | DDR3-1333 | 667 | 1333 | 10,660 |
| PC3-12800 | DDR3-1600 | 800 | 1600 | 12,800 |
| PC3-14900 | DDR3-1866 | 933 | 1866 | 14,930 |
Memory market research company iSuppli expected DDR3 DRAM products to replace their predecessor DDR2 as the main volume product in 2008. iSuppli forcasts a DDR3 market share of 55% the same year. IDC predicted that the first DDR3 memory will be commercially sold in 2006, whereas in 2009 market share of DDR3 will be 65%.
By: DocMemory
Copyright © 2019 CST, Inc. All Rights Reserved