Thursday, October 19, 2006
Introduction
I was reading our Website on the articles about Memory Trends. I realized that I have been writing about the memory market and its trends for the last five years. They were all written about this time of the year. This is the time that "signs and signals" are becoming clear. It allows a better view of the memory market for next year and the years after. This is also the time right after the Intel IDF Conference and the JEDEX Memory Conference that most of the major announcements in the industry have been made. At the same time, we are about to step into the Christmas selling season for computers as well as consumer computation gadgets.
Memory Road Maps
Intel has just released its memory roadmap for the next couple of years. Looks like the mainstream will be DDR2 and DDR3 memory. Picture for first generation of Fully Buffered DIMM is becoming murky. Next generation Fully Buffered DIMM 2 is almost non-existent. Rumors are that Intel is not expanding the FB-DIMM line due to the power/performance ratio. Intel will gradually withdraw support for FB-DIMM after 2008. On the other hand, DDR3 memory was accelerated to fill the need of server class computers.
Further, Intel has demonstrated a working DDR3 memory system at the IDF Conference. A Micron brand DDR3 module was seen working in a computer system.
Almost at the same time, AMD announced that it will stay with DDR2 memory through 2008 and will withdraw from using FB-DIMM in its server design. This move has almost ascertained that FB-DIMM market will stay relatively small and DDR2 will remain popular at least through 2008.
Industry roadmap also confirms that mainstream memory in 2007 will be 512Mb and 1Gb. Notebook memory and mobile memory will gain share as desktops consumers are looking for more mobility. Memory used in communication systems will also gain ground.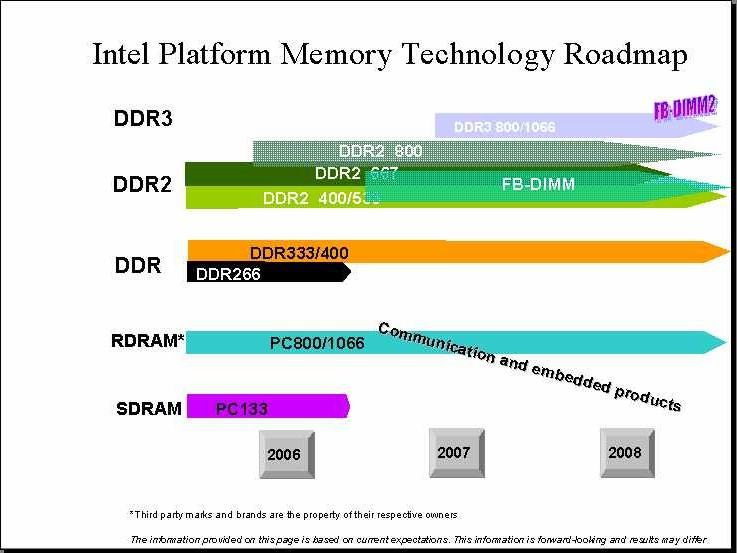 New Windows Vista
New Windows Vista OS is supposed to be available in January 2007. It is supposed to expand the computer system from 32bit operation to 64bit operation. This OS will empower the Intel core duo and the AMD 64 CPU. As more 64bit software are being developed, users will realize new computing power and speed they have never experience before. System memory requirement based on Microsoft recommendation will start from 1 Gaga-Byte. This propels the memory industry forward to a new milestone. DDR2 667 and 800 is expected to become the mainstream memory in 2007.
Windows Vista also comes with the new Robson Technology Thrust. This consists of two elements. One is the "Ready Drive" to support disk caching to NAND flash devices. The idea is to cache frequently used OS and application data to a NAND flash device in order to speed up OS boot time and application load time. This will make boot up or wake up process much faster than before.
The second element is the "Ready Boost" technology that is designed to increase performance of systems that don't have much system memory but do have access to external flash based storage devices. For example, 1GB flash will supplement the 512MB DRAM module in the system to create more virtual memory for temporary storage. Thanks of it as "almost" the equivalent of loading your PC with 1GB of additional memory module instantly.
As contents increases, TV channels over the Internet will become more real. These enabling set-top boxes and computing devices will gabble up large blocks of memory for the operation.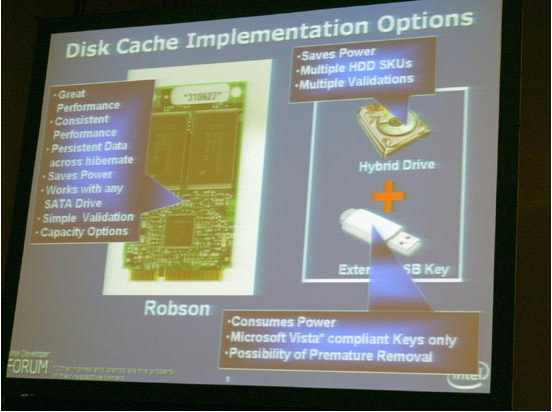 The Great Mobile Convergence
During 2007, we will see Mobile Convergence set in motion. The cell phone will be a computer, a personal controller, a personal entertainment center as well as a camera and a location fixing device through the utilization of built-in GPS.
Large blocks of DRAM and NAND flash will be used for the multi-media functions. NAND flash will act as the equivalent of silicon hard-drive for the hand-held device.
A new generation of Low Power DRAM and Low Power Non-Volatile RAM will be introduced especially for the mobile applications. With this new generation of memories, the many varieties of Multi-Chip-Package (MCP) devices used in the cell phone will consolidate into a small number of industry standards. This will greatly benefit the memory industry and thus create a group of new players into the MCP supply industry.
PSRAM and NOR flash will continue to exist in the mobile devices to host the operating system and serve as temporal storages.
The Great Migration to the Wild Wild East
The great migration of the memory manufacturing industry to the Far East has already started. Memory manufacturers are now using silicon foundries like SMIC, Grace Semiconductors, ProMos, Nanya, Power Chips, Charters…. to reduce their investment risk on equipments.
8 out of 10 California memory module manufacturers are either setting up manufacturing plants in China or simply buying their merchandize from a Far East memory module manufacturer. This will not only apply to DRAM modules, but will happen even more to the flash devices. Products like USB thumb drive, memory cards, and camera cards will be all from the Far East.
This migration will also revolutionize the manufacturing method in China and in India. They, too, will also include manufacturing automation to drive down the cost of production and up the quality standard. Result is that we will get better product at lower prices.
Although the California memory module manufacturers are outsourcing their production, yet they do have their brand name and quality reputation to uphold. We will see them doing more inspection test in the US to ensure quality. Overall, process automation is a must to maintain competitiveness.
Side Bars
Gamers will become a bigger population as Generation X-Y-Z grows up. Video games will be part of their culture and social pastime. They will seek for higher and higher performance game machine. Nintendo, Sony, and Microsoft Xbox will need 1066Mhz DDR2 memories. New EPP standard for gaming machines will be emerged. Designer and module manufacturers will never be able to avoid this high performance market. Users will demand and drive them to standardizations.
Overall, we predict that 2007 will be a good year for memory vendors and consumers.
By: DocMemory
Copyright © 2019 CST, Inc. All Rights Reserved