Tuesday, July 1, 2008
SPD, Serial Presence Detect, is perhaps the most mysterious thing on a memory module. Some system would not boot due to bad SPD information. Some system would run on the wrong latency and frequency resulting in less than robust performance. When memory manufacturers insert their part number and serial number into the SPD, it becomes even more complex. The proper working of the system now depends on the proper SPD data. The rate of RMA (customer returns) increases while profit decreases. Memory distributors and manufacturers are now using innovative ways to protect their profit by avoiding those so call "SPD Mistakes".
Case Study
Case #1:
Memory Module distributor buys module from overseas. He wants to insert his own manufacturer ID and serial number so that he can identify his own inventory. Since he does not want other sellers to falsify his modules, he would use a scrambling algorithm to generate his own unique serial number. These serial numbers cannot be copied easily.
Case #2:
SPD auditing is the last step for outgoing quality control. Each outgoing module goes through a barcode scanner to read off its label. Tester interprets the information on the label and compare against the SPD information on the module for any difference. SPD table is also read and stored into the quality control server for future reference.
Case #3
The memory module is heated until the sense line on the thermal sensor triggers. The temperature is automatically recorded into the SPD. Upper and lower temperature limits are set for the module. System Bios automatically learn the thermal characteristics of the module from the SPD data when they are installed in the system.

Case #4

SPD information is obtained from a master file on the company server. Serial numbers are automatically generated. A label with unique serial number and information is automatically printed with barcodes for that module.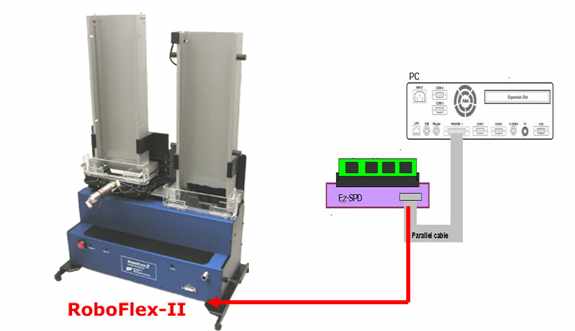 SPD Process is Automated with Robo II Handler
SPD Management Hardware Available
CST, Inc. provides two separated hardware systems for SPD management. The SP3000 series tester is a functional memory tester with SPD edit, compare and programming functions. The other one is the EZ_SPD programmer, a low cost simple programmer to manage the SPD process. These two SPD programmers all have copy, read, duplicate, and inspection function together with barcode reader interface.
Modular Software Forms the Core for SPD Management
In software, CST provides standard routines on barcode scanning, network file transfer interface, reversible write protect algorithm, as well as automatic CRC code generation. With these standard routines, CST can easily assemble and customize software to synchronize with each customer's production process.

Module label is printed directly from SPD information
CST, Inc. also offers mechanical handler system for fully automatic SPD management. Manufacturers can now leave their SPD programming and auditing to the "just before ship" moment. It is not only labor saving, but also enhance the efficiency and accuracy.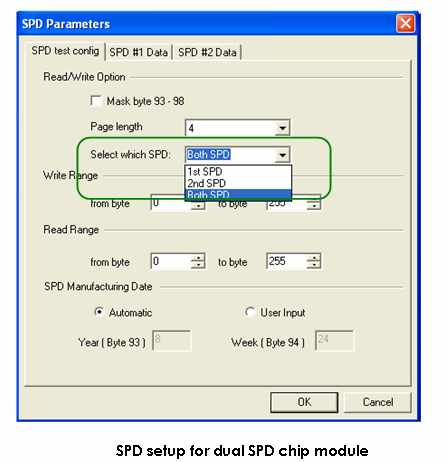 SPD setup for dual SPD chip module
Automatic SPD Management System Can Save
In summary: An automatic SPD management system with from CST can help you gather RMA history, Source tracking, and Serial Number Log. It can greatly enhance your profit. Please feel free to call on CST engineers at (972) 241-2662 to discuss your SPD management system requirements.
By: DocMemory
Copyright © 2023 CST, Inc. All Rights Reserved