DocMemory Pro PCI Diagnostic Test
Feature
DocMemory PRO PCI Memory Diagnostic Test Card Review
CST Inc - SIMMTESTER.COM has once again developed an innovative and user friendly PC Memory Diagnostic Test card tool for the all PC enthusiasts.


DocMemory Pro Memory Diagnostic Test card is a Self bootable memory diagnostic tool designed for the rigorous memory testing needs for desktop & server memory manufacturers and memory design engineers. DocMemory-Pro performs the most comprehensive tests available for both Base and Extended Memory (up to 64 gigabytes). Utilizing over 15 + different test patterns, both standard and proprietary algorithms, DocMemory Pro PCI offers a user friendly window graphic display to pinpoint the exact location of memory failures.
DocMemory-Pro is one of the most accurate Dram memory diagnostic tools available on the market and these are some of its key features. Real Motherboard Environment Testing Many memory manufacturers first assemble the memory chips into modules, then use memory tester to check for Real-time and DC Parametric Failures, however there are still a small percentage of less than 1% failures which can bypass a memory tester and yet failed at the System level.
DocMemory Pro major advantage when compared to stand alone testers, is the capability of testing and validating memory within a true PC system environment. Exhaustive Memory Test Algorithms CST is able to continuously borrow some of the most intensive test pattern used in the hardware memory tester and apply this test pattern on the DocMemory Pro PCI test algorithms. Fault Focusing - Pin point failures.
DocMemory Pro is capable of detecting the exact location of the memory chip failures with 95% accuracy, no other memory test software offers the simplicity to pin-point bit failures. Designed for: OEM PC System manufacturers Memory Module Manufacturers 3rd Party PC System manufacturers PC System Integrators PC Service & Repair Shops.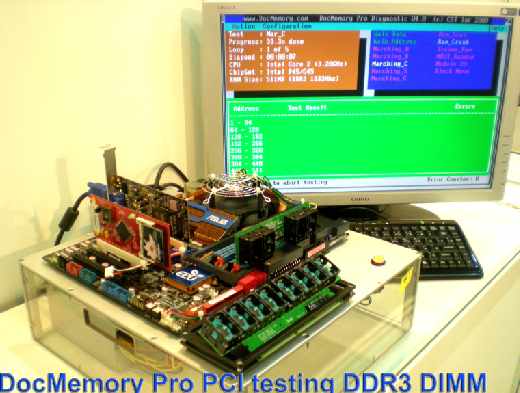 Benefit Highlights
Test & Validate Prototype & Production Memory Modules
Reduce RMA returns
Improve Customer Satisfaction & Quality of products
Easy to upgrade for testing future new memory


During our Lab evaluation process, numerous numbers of DDR,DDR2 & DDR3 DIMM modules were tested on different Intel /AMD motherboards and the test results again has proved that using "Detailed Test" mode on DocMemory Pro PCI test card , identified bad modules were detected over and over again.

There are some limitations of the DocMemory PRo PCI Memory test card :
Unable to test No Boot DIMM module
Inabiilty to detect the memory cell failure that of the faulty chip
The first module in PC must be good inorder for PC to boot for diagnostic software execution
Time taken for test completion is much longer
If any of these factors are critical to your operations, then a hardware tester such as the Eureka2 , SP3000 memory tester would be the options to consider.
DocMemory Pro PCI is a must for any PC user, service technicians; even memory wholesalers and resellers will benefit from using this software.