CST is proud to present the next generation of Eureka tester capable of testing DDR,DDR2 & DDR3 in blazing speed. The Eureka2 is the fourth generation Bench-Top DIMM / SODIMM test system specifically designed for high-volume memory distributors, memory module manufacturers, memory module design engineers, DRAM Test Labs and other PC manufacturers .
With progressive engineering and state-of-the-art technology, the Eureka-2 memory test system was created to be the industry testing standard for the next decade. Designed with R&D engineers, QA/QC engineers and module manufacturers in mind, the Eureka-2 's rugged, heavy duty construction was developed to endure the rigors of high volume testing
The Eureka2 Advanced Memory Tester can support DDR1, DDR2 & DDR3 memory with a change of optional adapters. Future memory such as Nand Flash, Nor Flash and MCPs will be offer on the Eureka2 tester.
With the new DDR3 Test Solution, Eureka2 DDR3 tests adapter supports testing DDR3 SDRAM DIMM modules starting from 800Mhz ~ 1400Mhz Data Rate. Leakage testing option is offered as a standard DC parametric feature test for all DDR, DDR & DDR3 module.
CST will offer a DDR3 Test Solution on the Eureka2 with an optional adapter which will support DDR3 DIMM module from 800Mhz to 1333 Mhz data-rate.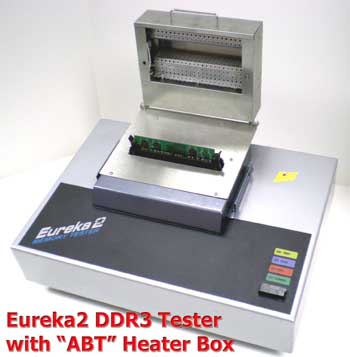 The Eureka-2 is indeed, the most versatile and powerful memory module tester for the module manufacturers and distributors. Additional future optional capability includes Flash testing, DDR2 TSOP/BGA Chips, DDR2 BGA Chips, DDR3 BGA Chips & MCP testing will be available.
Advanced Test Algorithms
The Eureka-2 performs fast functional test ensuring module work in the final system environment. Multiple user Defined test patterns are used to detect shorts and opens. Comprehensive test cycles out soft failures including single cell failure, cross-cell-contamination, intermittent failure as well as timing and noise related errors.
DC-Parametric Test
Leakage testing is offered as a standard feature and use for semiconductor leakage testing characteristics. The Eureka2 test can detect minute leakage current that can lead to infant mortality on any type of DRAM chips.
SPD Programming
The tester is built-in with SPD (serial presence detect) programmer to program and verify SPD contents on the same pass as the module is being tested.
Enhancement Features
A few enhancement features are provided to streamline test accuracy. These are chip-heating, voltage bouncing, loop test, adjustable timing parameters (selected), alterable refresh mode and cycle, refresh test, 7- ICC measurement, as well as Shmoo Plot and error capture capabilities. It also supports buffered or unbuffered modules with parity and ECC bits.
Ease of Use
This bench top DIMM/SODIMM tester is designed for all situations. While for the high volume production setting, an ideal solution is to interface the Eureka-2 with CST's new RoboFlex-1 and RoboFlex-2 Automatic DIMM/SODIMM Handler for hands-free testing. In all cases, the latest software enhancement and upgrade can be downloading from CST website at no additional charge.